Tom and Jerry-Hanna/Barbera era - Goofs Galore for Royal Cat Nap
These bloopers I have found on the episode Royal Cat Nap.
(1) At the first fight scene, Jerry and Tuffy(Jerry's cousin) are both brown even though Tuffy is gray.
(2) At one part, Tom cannot escape because he swallowed the key, though the next scene shows Jerry and Tuffy able to get out.
(3) In this episode, Jerry and Tuffy have a relationship to the King, and later in the episode though, the King refers to the two as "The King's Mouseketeers."
These are courtesy of Wikipedia.
Visual Proof!
See the examples below and
post your pictures
too.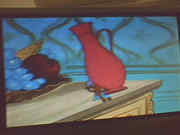 Photo of the first slip up.
Rated 8.0
/10 (1 ratings)
Your opinion?
---