I Love Lucy - Why Is Fred There?
I the episode "Redecorating," Lucy and Ethel decide to hang wall paper in Lucy's bedroom after being told she won 5 bedrooms full of furniture. When Ricky comes home and finds out Lucy and Ethel decided to paper the room, he walks into the bedroom with Lucy to see their work... as they are walking in the hall way you will see Fred in the background and he tries to move out of the way quickly ( he's supposed to be at home).
Visual Proof!
See the examples below and
post your pictures
too.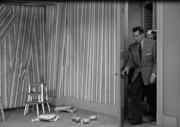 Get back Fred!
Rated 8.8
/10 (9 ratings)
Your opinion?
---