The Cutting Edge - Going for the Gold. - That's Not Chicago!
At 51 minutes into the movie Jackie and Alex are competing in the Northeast Regional in Chicago Illinois, and that is where the screen says they are, but the city in the background is not Chicago, it is Seattle, you can easily see the old Kingdome, the Smith Tower, and the Seattle Space needle in the picture.
Visual Proof!
See the examples below and
post your pictures
too.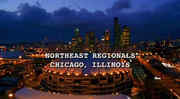 a screen shot from the movie (I will send a better picture when I have the time to do a good capture)
Rated 8.5
/10 (2 ratings)
Your opinion?
---