Kelly's Heroes - Only One Way in
Near the end of the film,Kelly and company have no other way to get into the bank and persuade the German tank man to blow up the door. He does this and when they enter through the breached front door, it shows other soldiers already in the building coming in through a side door in the bank.
Visual Proof!
See the examples below and
post your pictures
too.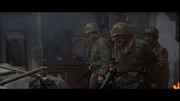 On the side of the frame you can see the side door to the bank
Rated 7.3
/10 (3 ratings)
Your opinion?
---