Walk Hard: The Dewey Cox Story - Time Travelling Suv
In one scene Dewey Cox is performing in the 1960s,Bob Dylan style, outdoors in front of a building. In the background is a street with traffic moving past. A modern-day SUV can be seen passing by.
Visual Proof!
See the examples below and
post your pictures
too.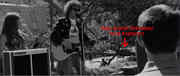 the SUV described by the author
Rated 9.0
/10 (4 ratings)
Your opinion?
---