I Now Pronounce You Chuck & Larry - Where Did Larry's Mustache Go
In the first 5 minutes of movie, they are on fire truck riding to the fire, and Larry (Kevin's character) has a very sexy mustache. After the fire and the rest of the movie, he has none.
Visual Proof!
See the examples below and
post your pictures
too.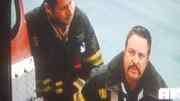 It is indeed Chuck played by Kevin James who has & then doesn't have the mustache
Rated 5.0
/10 (2 ratings)
Your opinion?
---