JAG - Clear and Present Danger?
Toward the end of this episode the convoy carring the ambassador to her dedication speech gets ambushed by the local terrorist group. The sequence is a copy of Clear and Present Danger even matching the type of vehicles. From the start of the alleyway to pretty much the end of the scene is completely ripped off from Clear and Present Danger. I was surprise to find out that if you put it in slow motion, Harrison Ford was not in any scene that I could tell.
Visual Proof!
See the examples below and
post your pictures
too.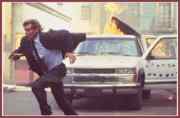 Convoy ambush scene from Clear and Present Danger also used in JAG.
Rated 6.0
/10 (2 ratings)
Your opinion?
Special Requirements:
Season 1 DVD Episode 6 (War Cries)
---