Dennis The Menace - Wrong Dime
In the episode titled "A Quiet Evening" from the third season, Mr. Wilson tells a policeman about his 1919-D dime that was accidentally spent in a vending machine. The dime that was picked up by the child was a Barber dime, a design discontinued in 1916.
Visual Proof!
See the examples below and
post your pictures
too.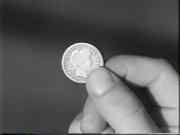 Definitely a pre-1916 dime, It looks like 1907 to me
Rated 7.0
/10 (1 ratings)
Your opinion?
Special Requirements:
Access to Youtube.com
---