Indiana Jones and the Last Crusade - Indy's Dad's Beard Changes Lengths
In the scene where the tank goes over the edge of the cliff. Indy's father, Henry Jones (Connery) is upset and talking about his son (Indy) whom he thinks died moments earlier as the tank went off of the cliff. Connery's beard is long in one camera shot. Then with in seconds later, the camera flashes back to him and his beard is trimmed very short. It is very evident when you watch the film.
Visual Proof!
See the examples below and
post your pictures
too.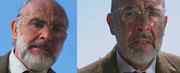 IJ sr. shave
Rated 9.0
/10 (1 ratings)
Your opinion?
Special Requirements:
none
---