A Charlie Brown Christmas - The Doctor Is Real in?
In the scene where Lucy is standing behind her "Doctor" booth talking to Charlie Brown: from the front angle, the booth reads "The doctor is real in," but from the side angle it reads "The doctor is in."
Visual Proof!
See the examples below and
post your pictures
too.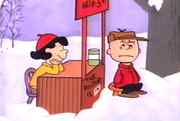 The Doctor is In
Rated 5.8
/10 (5 ratings)
Your opinion?
---