Beverly Hillbillies, The - Right hand drive truck
In the episode titled "Party Line" from the fifth season, the Clampetts are shown in the truck heading for the bank. The film is reversed and the steering wheel is now on the right side and they are driving in the left lane of the road.
Visual Proof!
See the examples below and
post your pictures
too.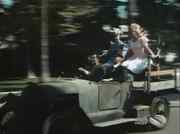 Just a little continuity error
Rated 8.5
/10 (2 ratings)
Your opinion?
---