Star Trek Voyager - When Did They Start Using a Mac?
In "Good Shepherd" Janeway decides to take three young crewmembers on an away mission with her aboard the Delta Flyer. They are then chased by some Dark Matter Beings. Crewman Mortimer Harren then chooses to leave in a escape pod. Look in the panel in front of him and you will see a mouse cursor!
It looks like it came from a MAC or Linux computer (it is black with a white outline)
Guess we all know how the LCD panels work now.
Visual Proof!
See the examples below and
post your pictures
too.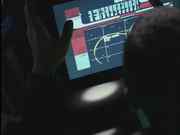 Figured I could show everyone what is being talked about here.
Rated 5.7
/10 (120 ratings)
Your opinion?
Special Requirements:
The episode "Good Shepherd"
Contributed By:
Compmania
on 04-16-2000 and
Reviewed By:
Webmaster
---