Scrubs - "Bob" Cox?
In the beginning of "My Buddy's Booty" (Season 5, Episode 11), Dr.'s Reid, Cox, and Dorian are talking to a patient who says he gets lightheaded and passes out only when he yawns. Dr. Cox then tells J.D. to tell the patient a story (to make him yawn), and J.D. responds by saying, "Lay off, Bob, okay?" Dr. Cox's name is Perry! Bob is Dr. Kelso's first name.
Visual Proof!
See the examples below and
post your pictures
too.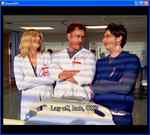 Not correct... JD says "bub", not "Bob".
Rated 3.5
/10 (4 ratings)
Your opinion?
---