Fairly Odd Parents - hcnuaL
In the episode where Timmy gets the yoodoo dolls, towards the end where AJ launches his slow rocket, it has a shot of the remote control with the word launch printed upside down, considering the way AJ is holding it.
Visual Proof!
See the examples below and
post your pictures
too.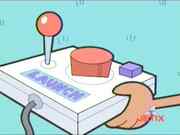 LAUNCH
Rated 5.0
/10 (1 ratings)
Your opinion?
Special Requirements:
YooDoo episode
---