Stargate Atlantis - Snickers on an Alien Planet
In episode 17 of season 3 at exactly 15m22s into the episode, the newly found character "Carrick" appears in his space shuttle, though when he reaches the control terminal, there is an empty snickers wrapper on the control panel.
Visual Proof!
See the examples below and
post your pictures
too.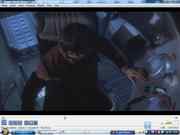 Shot of the snickers bar
Rated 8.5
/10 (11 ratings)
Your opinion?
---