Pirates of the Caribbean (The Curse of the Black Pearl) - Who's the Cowboy?
When Jack says "On deck, you scabrous dogs," look to the very left of the screen over Jack's shoulder. There's a man standing there with a tan cowboy hat, sunglasses, and a white shirt.
Visual Proof!
See the examples below and
post your pictures
too.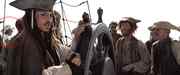 Cowboy can be clealy seen
Rated 9.6
/10 (29 ratings)
Your opinion?
---