Love Actually - Gift-wrapped? Lovely...
Harry buys that gold necklace for Mia, the secretary that he's having an affair with, and the salesman insists on having it gift-wrapped. There's about a five minute scene as the salesman wraps the gift VERY elaborately. A few scenes later, Harry comes home, hangs up his coat and his wife, Karen, goes through the coat pockets to see what he bought. She takes out the plain white box (not gift-wrapped at all!) and is able to open it. So... what was the point of the entire gift-wrapping scene! [Make Corrections] This comment is wrong. Harry doesn't end up buying the wrapped up necklace that day (his wife comes up to him remember?) Then he comes home late one night (his wife says they've been waiting for him) then she sees the pressie. Not a slip-up. Viewer not paying attention.
Visual Proof!
See the examples below and
post your pictures
too.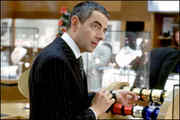 Salesman (Rowan Atkinson) beginning to wrap the necklace
Rated 3.1
/10 (16 ratings)
Your opinion?
---