Back To The Future - Solid Liquid
When marty is in the diner in the past and he talks to his father for the first time, he is drinking what i think was soda or coffee, any-who when his father leaves the diner on his bike, Marty slams his cup down on the counter and not a drop spills or splashes.
Visual Proof!
See the examples below and
post your pictures
too.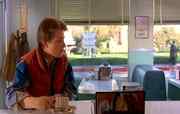 Looks like there was liquid in the cup...
Rated 2.1
/10 (9 ratings)
Your opinion?
---