Histeria! - Charity's Cloned Herself!
In the "It's Called Histeria!" intro, at the shot where the characters are running from a giant Big Fat Baby, pause it, and you'll notice that there are two Charity Bazaars in the shot - one in her normal outfit, and the other in her pilgrim costume!
Visual Proof!
See the examples below and
post your pictures
too.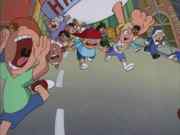 The two Charities are on the upper right side of the picture.
Rated 9.3
/10 (3 ratings)
Your opinion?
Special Requirements:
Any episode with the "It's Called Histeria!" intro
---