M*A*S*H - Hula Hoop Earrings
In a poker game in the Swamp, Klinger tries to bet his hoop earrings. When a comment is made about wearing hoop earrings, Klinger says "Id wear Hula Hoops if it would get me out". the Hula Hoop was not marketed until 1958---well after the end of the Korean War.
Visual Proof!
See the examples below and
post your pictures
too.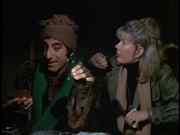 Klinger talks about the earrings.
Rated 7.0
/10 (2 ratings)
Your opinion?
---