Spy Kids 3-D - Backwards Brand
Go to the part of the movie where the giant robot is about to be branded by Dinky. The brand is backwards, because if you were to look at it from his point of view you would want to be able to read it, but you can't read it because it would be backwards. Sorry I didn't explain it well,but you should be able to figure it out.
Visual Proof!
See the examples below and
post your pictures
too.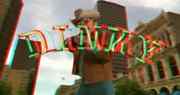 A picture of Dinky branding backwards. (In 3-D)
Rated 5.0
/10 (1 ratings)
Your opinion?
Special Requirements:
movie
---