Star Wars Episode 6: Return of the Jedi - Cop a Feel
In the scene where the rebels are trying to open the shield generator's bunker door, Leia gets shot in the arm. Han rushes over to see if she's OK, and cops a feel, before raising his hand to her shoulder. Leia then comments,"It's not that bad."
Visual Proof!
See the examples below and
post your pictures
too.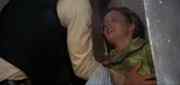 Han takes a sneeky feel with his right hand
Rated 6.6
/10 (42 ratings)
Your opinion?
Special Requirements:
RotJ
Contributed By:
Darkone
on 04-10-2000 and
Reviewed By:
Webmaster
---