LOST - Animal Trainer Seen
In season 2, episode 9 "What Kate did" at around the 41st minute, Kate and Sawyer go outside and see the black horse. Right after Kate says "Do you see that?" It cuts to a shot of the horse. Look at the right of the screen and you can see the animal trainers arm telling the horse to stay where it is.
Visual Proof!
See the examples below and
post your pictures
too.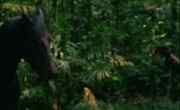 There's a hand in black glove to the right
Rated 7.1
/10 (13 ratings)
Your opinion?
---