Brokeback Mountain - Mic Wires
About 90 minutes into the movie, Ennis leaves for his first fishing trip with Jack. When Ennis picks up Alma Jr., to kiss her good-bye and hands her to Alma , Alma Jr's. pajama shirt is lifted revealing a microphone wire on her stomach.
Visual Proof!
See the examples below and
post your pictures
too.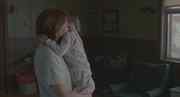 A mic wire is visible on the Alma's Jr. stomach.
Rated 4.5
/10 (2 ratings)
Your opinion?
---