Batman Begins - Microwave Beam
Just before the active microwave generator is lifted into the train, one of the bad guys walks right in front of the generator. I believe that he should be fried.
Visual Proof!
See the examples below and
post your pictures
too.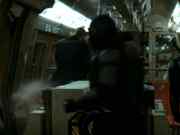 French omlet or no French omlet, that is the question.
Rated 4.0
/10 (8 ratings)
Your opinion?
---