Xiaolin Showdown - Reversing Mirror
In both "Crystal Glasses" and "Enter The Dragon", the Reversing Mirror gets the effect mixed up. It SHOULD (accoring to Master Feng) "reverse the effect of any Shen Gong Wu, for example the 2 Ton Tunic would become as light as a feather...". However, in "Crystal Glasses", the mirror is used on the Crystal Glasses (which allow you to see into the future) to change the future Omi sees in them, when in fact it should have been the PAST Omi saw if the glasses got reversed. In the same episode, Jack Spicer uses the mirror to rebound Omi's Fist of Tebi Gong attack back at him, when instead the punch should have become incredibly weak. Finally, in "Enter The Dragon" Omi uses the Reversing Mirror to reflect Dojo's fire breath back at him, when it shouldn't have worked (it should only affect Shen Gong Wu, and last time I checked, Dojo's fire breath wasn't a Shen Gong Wu).
Visual Proof!
See the examples below and
post your pictures
too.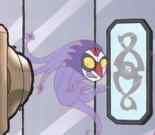 Wuya with reversing mirror
Rated 6.9
/10 (33 ratings)
Your opinion?
---