Moulin Rouge - Give Us a Push Crew Member
In the spectacular spectacular scene when one of the characters is pushed on a chanderliar you can clearly see a crew member with a green and white baseball hat pushing him.....clearly not meant to be there!
Visual Proof!
See the examples below and
post your pictures
too.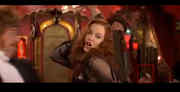 the slip-up in moulin rouge!!
Rated 7.5
/10 (6 ratings)
Your opinion?
---