Ghostbusters - Slipple-Nip
First you go to the scene of where Danais talking to her mother on the phone after dancing or areobics or whatever. the you go to slow mode. keep hitting it until the " Ghostly hands of Gozer " pop out of the chair. Then you watch her right breast eventually you will see her right nipple for a brief second. If you wish to comment then do so my e-mail address is included.
thank you for your time
P.S.Brown
Visual Proof!
See the examples below and
post your pictures
too.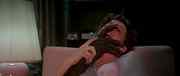 Sigourney Weaver Nipple Slip
Rated 5.5
/10 (21 ratings)
Your opinion?
Special Requirements:
the dvd is preferable
---