Star Wars Episode 6: Return of the Jedi - Who's Blocking Who?
Watch the scene where the Emperor is tring to taunt Luke into attacking him. Luke finally takes a swing at him, but Vader blocks his lightsaber. When the camera cuts to a close-up of the Emperor laughing you can see that Vader's red lightsaber is actually in front of Luke's green one. Meaning that nothing is stopping Luke from taking the Emperor's head off!
Visual Proof!
See the examples below and
post your pictures
too.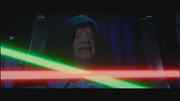 Luke's green lightsaber is closer to the Emperor than Vader's red one.
Rated 7.2
/10 (31 ratings)
Your opinion?
Special Requirements:
just the movie
Contributed By:
mechie723
on 03-30-2000 and
Reviewed By:
Webmaster
---