Buffy: The Vampire Slayer - Yes, That Man with the Tray Is Supposed to Be There!
This is from the season four episode when Buffy and Faith are fighting in Buffy's house, just after Faith has tied up Joyce. Buffy and Faith both fall down the stairs in Buffy's house. Look very closely to the left of the stairs. There's a man holding a tray and watching them fall! I think he is a member of the crew and he is half off the screen, but when you look, it is SO obvious! This could have easily been missed by simply readjusting the cameras!
Visual Proof!
See the examples below and
post your pictures
too.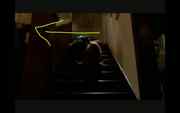 took this still from a fan made video found http://www.youtube.com/watch?v=y0ChLWd8AEwv at 2:37
Rated 5.7
/10 (6 ratings)
Your opinion?
---