Bad Boys 2 - Nipple Slip
When they get out of the Hummer and Tapei has the gun to Mike's head, one of Tapei's henchmen asks Sidney (Gabrielle Union) to drop the gun, she throws the gun at the mine and quickly drops to the ground. When she drops in slow motion, you can she her left breast slipping out of her dress and her nipple and areola show. This moment comes at 2:17:52 into the movies, you might want to slow it up to see it better!!!
Visual Proof!
See the examples below and
post your pictures
too.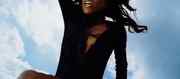 Gabrielle Union nip slip
Rated 7.6
/10 (126 ratings)
Your opinion?
Special Requirements:
None
---