Tomb Raider: The Movie - "Lara Lara Lara"
In the part where Lara is taking a shower, if you freeze it at the part where the camara kind of moves, you can see some " Lara Exposed ".
Visual Proof!
See the examples below and
post your pictures
too.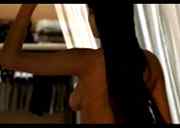 I guess it depends on what you consider "exposed." I'm sure it was intended this way.
Rated 7.6
/10 (18 ratings)
Your opinion?
---