Italian Job, The (2003) - Spiderman Comes to Save the Day
Ok, it happens right when the car goes through the ground. Spiderman pops up out of know where. The exact time frame was Chapter 14, 89 min and 11 sec. It is pretty easy to spot if you know what you are looking for.
Visual Proof!
See the examples below and
post your pictures
too.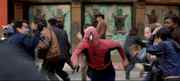 Spiders run from Explosives
Rated 3.7
/10 (15 ratings)
Your opinion?
Special Requirements:
Good eyes, Movie
---