Terminator 2: Judgement Day - Arnie's Hand in a Sock
Check out the scene in the steel mill when Robert Patrick pushes Arnie against two large rotating gear wheels.
Arnie looses his lower arm when it gets caught in the mechanism, but look closely as he gets up.
His arm is clearly disguised in a sock!
Visual Proof!
See the examples below and
post your pictures
too.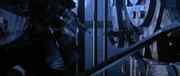 Its a little indistinct but definatly there! c/o The Simonator
Rated 6.8
/10 (105 ratings)
Your opinion?
Special Requirements:
None - Any edition of the film
Contributed By:
Richard Castle
on 03-14-2000 and
Reviewed By:
Webmaster
---