Battlestar Gallactica - Made in USA
Pause the movie as "Athena" is helping "Starbuck" to run a diagnostic on his wounded viper. Here computer screen will show a circuit schematic that shows "Made in USA" on the right side of the screen.
Visual Proof!
See the examples below and
post your pictures
too.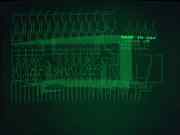 Athena running a diagnostic on Starbuck's crippled Viper using what appears to be Earth technology (Image from www.battlestarwiki.com)
Rated 7.0
/10 (5 ratings)
Your opinion?
Special Requirements:
DVD Player
---