Buffy: The Vampire Slayer - Vanishing Tattoo
At the very end of the episode Faith, Hope, Trick, we see Buffy going to Angel's mansion to place her Claudaggh ring on the floor and say good-bye to Angel. But when she leaves, Angel is brought from hell and falls from the...sky, I guess and lands on the floor. If you look closely, you will notice that his tattoo that is usually on his right shoulder blade is missing.
Visual Proof!
See the examples below and
post your pictures
too.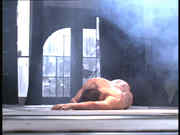 Look at the right shoulder!
Rated 6.6
/10 (8 ratings)
Your opinion?
---