Dumb And Dumber - Magic Bullets?
In the end scene, Harry gets shot twice in the chest, where he is wearing a bullet-proof vest. After the FBI comes into the room to save the day, Harry exclaims, "And they slapped this on me!" then rips open his shirt to reveal his bullet-proof vest.
Bullets flying into a bullet-proof vest would be stuck in the vest and leave a mark, or you would be able to see the shiny metal that bullets are. But, alas, it is a clean, unmarked vest that Harry reveals.
Special Requirements:
Just the movie and an open pair of eyes
| | |
| --- | --- |
| Avg. Rating: | 3.6 of 10 - (8 votes cast) |
| Your Rating: | |
Contributed By:
Reviewed By: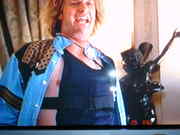 Sorry about the Flash .. but you can see where one of the "bullets" should have hit a little under his nipple just above the strap
---