Dumb And Dumber - Magic Bullets?
In the end scene, Harry gets shot twice in the chest, where he is wearing a bullet-proof vest. After the FBI comes into the room to save the day, Harry exclaims, "And they slapped this on me!" then rips open his shirt to reveal his bullet-proof vest.
Bullets flying into a bullet-proof vest would be stuck in the vest and leave a mark, or you would be able to see the shiny metal that bullets are. But, alas, it is a clean, unmarked vest that Harry reveals.
Visual Proof!
See the examples below and
post your pictures
too.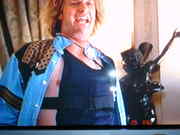 Sorry about the Flash .. but you can see where one of the "bullets" should have hit a little under his nipple just above the strap
Rated 3.6
/10 (8 ratings)
Your opinion?
Special Requirements:
Just the movie and an open pair of eyes
---