Terminator 2: Judgement Day - Truck Cables
Near the end of the movie, when the truck with liquid nitrogen is sliding sideways, and the T1000 is standing on it, look closely into the sparks and you will see some cables pulling the truck.
Visual Proof!
See the examples below and
post your pictures
too.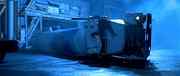 Hard to tell if they're cables or just lines on the road. c/o The Simonator
Rated 4.9
/10 (19 ratings)
Your opinion?
Special Requirements:
Good eyes
Contributed By:
Nehmeziz
on 03-02-2000 and
Reviewed By:
Webmaster
---