Digimon - Biyomon's 2 Beaks
1. Watch Digimon (since it's far superior to Pokemon in just about every way, there's no reason not to!)
2. Tune into the episode entitled, "THE DARK NETWORK OF ETEMON" (Episode 15)
3. When the Kids arrive at the village, start paying close attention when the welcoming feast begins (the kids are sitting together on the floor at the back of a red-floored room).
4. You might need to record this part with a VCR, and play the scene back in slow-motion, as it happens very quickly.
5. When Biyomon and Palmon are sitting next to each other on the floor and talking, a Pagumon walks by.
6. After the Pagumon passes Biyomon, look closely (try to pause the tape here).
7. Biyo has two beaks! And I think she has four eyes, too, but I'm not sure.
Visual Proof!
See the examples below and
post your pictures
too.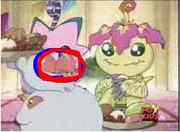 The Digimon Adventure bloopers you guys posted? Yeah, none of them are real except for this one. I checked.
Rated 5.3
/10 (129 ratings)
Your opinion?
Special Requirements:
The 15th Episode of Digimon; sharp eyes; a VCR with a frame-by-frame featureis strongly recommended
Contributed By:
Mike Deckard
on 02-29-2000 and
Reviewed By:
Webmaster
(The Webmasters have disabled posting of any new comments on this Slip-Up)
---