Lord of The Rings: Fellowship of The Ring - Broken Finger
Go to the scene where gandalf, frodo and co. are on the side of the mountain on the pass of cahadras, when saruman begins to try to bring down the mountain it sort of spins past saruman to show him on top of the tower of isengard and as it spins past him you can see that his finger is wrapped up in a bandage because christopher lee had surgery on his finger earlier that week.
Visual Proof!
See the examples below and
post your pictures
too.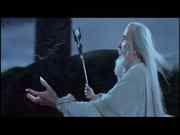 Here's a shot Christopher lee's broken finger
Rated 4.7
/10 (12 ratings)
Your opinion?
Special Requirements:
the fellowship of the ring DVD or VHS and a remote if you want to pause it
---