Spongebob Squarepants - Spongebob's Mishap
In the episode where Spongebob has to write the essay, he says that he's writing down, "What not to do at a stoplight." But if you look down at his essay, it really says, "What not to do at a SPOTlight." A spotlight?
Visual Proof!
See the examples below and
post your pictures
too.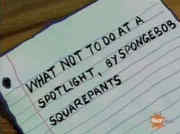 What Not To Do At A SPOTLIGHT!
Rated 6.6
/10 (22 ratings)
Your opinion?
Special Requirements:
A Television
---