Lord of the Rings: The Two Towers - Not so Graceful Elf
In the epic running scene where Gimli, Aragorn & Legolas are tracking down the Uruk-hai who nabbed Merry and Pippen, if you watch closely, about half-way through as the camera pans left (I think, could have been right) you can see Legolas stumble over some rocks before quickly continuing running as though nothing happened. I know this may sound trivial at first but after noticing it the first time, I always see it and can't help but laugh at the irony.
Visual Proof!
See the examples below and
post your pictures
too.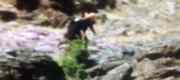 Stumble
Rated 3.3
/10 (78 ratings)
Your opinion?
Special Requirements:
VHS or DVD copy of The Two Towers
Contributed By:
Anonymous
on 03-18-2004 and
Reviewed By:
Webmaster
---