Reservoir Dogs - Who Shot Nice Guy Eddie
Fast forward to the scene in the warehouse at the end where everyone shoots each other. Pink's cowering under the loading ramp, Joe's pointing his gun at Orange, White's pointing his at Joe, Eddie's pointing his at White and screaming "Don't you point a gun at my pa", etc.
Anyway, when the guns go off, nobody is aiming at Eddie, but he still gets shot. I heard that he was supposed to be shot by either Orange or White but his blood bag exploded too early and it looks like he's shot by nobody.
Visual Proof!
See the examples below and
post your pictures
too.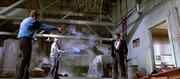 The Mexican Stand-Off
Rated 4.7
/10 (154 ratings)
Your opinion?
Special Requirements:
Look carefully at the film
Contributed By:
Anonymous
on 02-05-2000 and
Reviewed By:
Webmaster
---