Terminator 2: Judgement Day - Windshield
In the scenes where John is being chased, when the truck goes off the bridge the windshield breaks out completly. The camera goes to John, then when it goes back to the truck, the windshield is still there!!! Robert Patrick uses his arm to bust it off! This is definitly a slipup.
Visual Proof!
See the examples below and
post your pictures
too.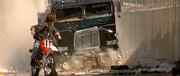 Its definatly falling out here! c/o The Simonator
Rated 7.1
/10 (43 ratings)
Your opinion?
Special Requirements:
There are no special tools
Contributed By:
Nick
on 06-28-2002 and
Reviewed By:
Webmaster
---