Terminator 2: Judgement Day - Bullet Hole Disappears from Windshield
Sarah Conner shoots at the cop car in the mall parking lot clearly puts a bullet hole in the windshield. Later, however, when Arnold (the T-800) is driving the same car, the bullet hole is gone.
Visual Proof!
See the examples below and
post your pictures
too.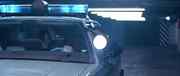 You can see the bullet hole to the right of John Connor, c/o The Simonator
Rated 5.2
/10 (78 ratings)
Your opinion?
Contributed By:
Anonymous
on 08-10-1999 and
Reviewed By:
Webmaster
---