Shawshank Redemption, The - Beer Blast
Look at the scene where they are drinking beer up on the roof. This one is easy to see. They were twisting off the beer tops. In 1949, they did not market twist off beer, and it is almost impossible to twist one off if it wasn't made that way.
Visual Proof!
See the examples below and
post your pictures
too.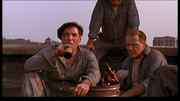 For those who does't belive the people that is say there isn't caps. Watch the pic and you will notice the ones in the bucket without a cap...
Rated 4.7
/10 (86 ratings)
Your opinion?
Special Requirements:
movie
Contributed By:
Garthie
on 01-26-2000 and
Reviewed By:
Webmaster
---