Terminator 2: Judgement Day - Smoking Stove
1. Watch the scene where the Terminator throws that guy onto the stove (it's near the begining).
2. After he "burns", you can clearly see little nozzles next to the stove, which shot out the smoke.
3. If you ask me, James Cameron could've hired someone better to do that effect.
Visual Proof!
See the examples below and
post your pictures
too.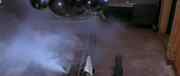 Smokin! c/o The Simonator
Rated 6.7
/10 (38 ratings)
Your opinion?
Special Requirements:
The video and good eyes
Contributed By:
EbonyWhite
on 01-23-2000 and
Reviewed By:
Webmaster
---