Goldeneye - Stunt Crew Cameo
The spectacular bungy jump sequence in the opening 'teaser' at the begining of the film has a well hidden slip up that is quite shocking. To see this you must watch the stunt in slow motion and keep your eye on the top of the screen at all times (i.e the top of the dam.) What you will see is the stunt crew.
Visual Proof!
See the examples below and
post your pictures
too.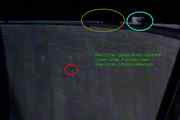 White Truck
Rated 6.7
/10 (27 ratings)
Your opinion?
Special Requirements:
the DVD
Contributed By:
Anonymous
on 02-18-2002 and
Reviewed By:
Webmaster
---