Shrek - Open Wider
When Shrek is eating a bowl full of eyeballs near the beginning of the movie (DVD time index 2.59) he doesn't open his mouth wide enough for the eyeball on the spoon and it passes right through his upper lip. This is only a small technical slip-up in this almost perfect movie.
Visual Proof!
See the examples below and
post your pictures
too.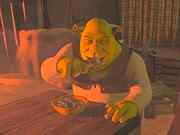 There's a slip-up right here
Rated 3.0
/10 (154 ratings)
Your opinion?
Special Requirements:
A pause button
Contributed By:
ysic
on 11-24-2001 and
Reviewed By:
Webmaster
---