M*A*S*H - Naked Hawkeye
Hawkeye made a bet that he could walk into the mess tent naked and no one would notice. When he walks into the mess tent, the camera shows a shot of him from the waist up, but if you look closely, you can see the top of his shorts or pants at the bottom of the screen.
Visual Proof!
See the examples below and
post your pictures
too.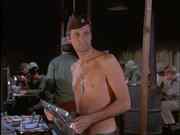 Tent scene
Rated 4.6
/10 (66 ratings)
Your opinion?
Special Requirements:
to see the episode where Hawkeye makes a bet that no one notices him
Contributed By:
great38921
on 11-30-2001 and
Reviewed By:
Webmaster
---